Asian-American History Month Reading
with
Fong Tran, Jasmine Wali, and Kevin Vang

Monday May 18, 2015 at 7:30 PM
SPC at 1719 25th Street
Host: Rebecca Morrison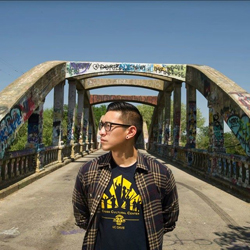 Fong Tran is a Sacramento community organizer and youth advocate. He is a proud product of South Sacramento, California, and has given many readings locally and nationally with artists such as HBO Def Jam Poet Bao Phi, Andrew Lam, Sahra Nguyen, G Yamazawa and many more.  He currently serves as the Program Advisor/Coordinator for the UC Davis Cross Cultural Center and is a graduate student in the UC Davis Community Development Masters Program. Visit his website at fongtranpoetry.tumblr.com.
History Textbooks

They say "Those who cannot learn from history are doomed to repeat it"
So it must be the case that he who writes history
Wanted a rendition, regurgitation, relapse of repeated mistakes
Cause all I see when I watch the news
are headlines that match
the chapter titles in my high school history text books
Worlds and War and Western thinking
run on repeat like broken records
Eurocentric Euphuisms like West expansion
Exploration, Manifest Destiny, and Spreading Democracy
Are just tactful translations from truth as
Slave trade, colonists, imperialism
Exploitation of all your natural resources and a bad excuse for US Military
Americans play this red, white skin and blue superman Syria savior mentalities
Third world nations being left with nothing
but pillaged lands, broken homes & false promises of American dreams
History textbooks are written like a
A bad version of Lord of the Rings
and I've been bored since the first book
American is Frodo Baggins
Uncle Sam is Gandalf
And the evil Sauron
Is made out to be every youth of color
With a hoodie, skittle and ice tea
Or a man or woman
In a turban or hijab
Or someone with a family crest on his crest
Gang validated as a thug related tattoo
world history is just American Propaganda
Last year's communist
Is this year's terrorist
The blatant basatardizing of brothers of color
To beat them down
so maybe history doesn't repeat itself
it just seems to rhyme a lot
and we're just caught up in the bad fairytale
If you don't tell your stories
And write down your own histories
Than someone else will
And I'm not saying it's the man
And that someone
is usually really white
Really old
And Really male
And the alphabet soup at the end of his name: Ph.D.
Confuses him
Confuses what he understands to be fact
Is really just an glorified opinion
So please sir,
Expert your way out,
Out of wrongful omission
please tell my young students that
Vietnamese people
My people
My History is more than 2 textbook pages about a war
But we're a culture
a peoples
a way of life
Someone needs to tell my Hmong student
That their people's history in helping the US CIA
In Secret War
And why its still a god damn secret
And no one knows about it
We must reclaim the history that has yet been told to us
and if these hypocritical historians can
ridiculously rant on this racist
run-down of bias narrative
than I can do it too
so from now on
the migration of Vietnamese refugees to America
since the fall of Saigon
will now be known as
"Manifest beautification"
Cause goddammit we look good
This Post racial myth that believes
We are all the same and
and not a beautiful diversity of many different
Called "Melting Pot of America"
That's stupid
We're more like a salad bowl
But I don't like America salad
So we're like the papaya salad of American
And mother is the real P.O.W.
Not prisoner of war
But through living through a refugee camp for 8 months
She was in a Prison Of Warriors
We will write our stories
We will make our history
Upon canvass
Upon page
Upon walls
Upon Minds
— Fong Tran

Jasmine Wali is an Afghan/Chinese American mixed-race woman who founded Sac Girls Speak, a spoken word program for elementary and high schoolers at low-income schools in Sacramento. She also founded Voices of Color, a spoken word collective/open mic at UC Davis that highlights stories from students of color. She is currently a fourth-year student at UC Davis, studying Asian American Studies, Sociology, and Social and Ethnic Relations, and she plans to graduate this summer.
The Nightmare
I am the child of refugees and undocumentation
My roots are imperialized with exploitation
You were fed lies and misinformation
See, my people died for this nation's flirtation
With power
The cremation of the American Dream
Burns in the eyes of my mother and father
Dishrooms and cracked hands
Sweatshops and sweatbands
Sweat drips from their eyes
As they out collect cans
And the sweat, well it's tears
And the tears, well it's blood
And blood drips and it drips
And it turns to a flood
Next thing I know,
It's 6am and the hospital floor
Bleached like the American Dream
Is bloodstained with pain and violence
With stabbings and charged batteries
Like the Energizer bunny that will just keep going and going
Happening over and over again
Why is this dream a nightmare?
My American Dream is filled with
Screams and yells louder than New York City nights
Workplace ladders harder to climb than Appalachian Mountains
Alcohol that flows through my veins like the Mississippi River
My American Dream is filled with
Broken plates and broken hearts
No, I mean shattered plates and shattered hearts
Scattered fates in liquor marts
Battered face to hide the parts
Of ourselves
That hurts too much to say
These stories are repeated by millions each day
Broken families in jail cells and caskets
But I turn on the news and all I see is
Celebrity gossip and white boys shooting up schools
The American Dream was never made for us so why do we wish for this nightmare?
But we are the next generation
I'll take your whitewashed education
So you will respect me enough to just listen to our stories
I will not be invisible another day
I have the strength of my ancestors on my side
Warriors from one war-zone to another
I am resilient like my ancestors
The American Nightmare is ending
And we're all about to wake up
— Jasmine Wali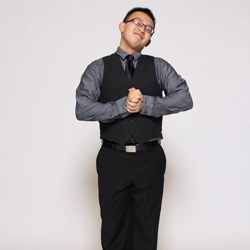 Kevin Vang is a second-generation Hmong American who is the Middle School Outreach Coordinator at the Student Recruitment & Retention Center at UC Davis. He is double majoring in American Studies and Asian American Studies. He was also a co-coordinator for the Southeast Asian Youth Conference (SEAYC) 2015 entitled, "The Rose that Grew from Concrete." SEAYC is a three-day, two-night conference that brings together 100 high school and middle school students to participate in workshops, dialogues, and team building and leadership activities, which focus and build on identity, culture, and history, as Southeast Asians. He has been the coordinator for several SEA (Southeast Asian) poetry workshops and retreats.
Liberation in Chains by Kevin Vang
40 years of war And still, who are the Hmong 40 years of war And still my brothers are going to war A life committed to freedom, Yet chains hold me back A Secret War kept a secret Where my people at? I ain't see them on TV commercials for Vietnam Commemoration I don't read about them at school, We just people without a nation Following the voices of liberation But America, were we in chains before your war in Vietnam? You recruited us before any American knew of the war CIA trained, given humanitarian aid We flew planes dropping bombs knowing that we'll get paid Our lives exchanged for freedom Land, money, power Cries from soldiers who can't even liv'em Took advantage of our oral tradition Promised a contract never written Now we're stuck in the system of war Not knowing if we died from bullets, mines, bombs, or by an idea We fought and sacrificed all that we had And all we saw were your choppers running Leaving a trail of dust and the smell of gasoline For us to follow We became refugees cuzz our homes got swallowed Political persecution, genocide This freedom was hollow We came looking for you Zig zagged through mine fields Dug holes to hide from bombs Drugged babies to stay silent Crossed a river that engulfed families whole Only to run from men with guns To be placed in camps surrounded by guns And you came back to us Offering your gift of freedom But in return we have to pay for it with our life and blood Not questioning the freedom we fought for wasn't even freedom If it brought us to this place So we accepted it And now we risk our lives to do the same for others Yet no one knows who we are What we went through What it has done This is what it means to fight for freedom  
{ 0 comments }